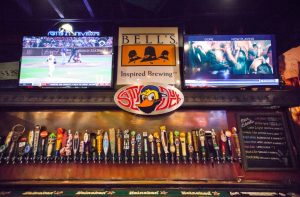 We are the original American craft beer bar in Fort Walton Beach and we pride ourselves in bringing new and different brews to the local crowds and to you.
With 40 taps updated weekly, including one rotating nitro tap, you're bound to find something that will keep you coming back again and again!
In 2009, the Salty Duck thought it would be good to open a craft beer bar and were overwhelmed by the response of the rising craft beer community. Since then we have brought Fort Walton Beach many tastes from local breweries and from across the country. If you're looking for rare and exclusive American craft beers available in the local area, we are the guys that have them! If you're looking for big-name, nationally and internationally marketed commercial beers, we have a few,  but so does the grocery store just down the street… just sayin'.
Stop in for a beer and bring your friends for bar and arcade games, televised sports, or just be a spectator. Salty Duck also participates in Fort Walton Beach's Pub Crawls, so be sure to catch some of the local scenery and fun.
Remember……stay classy, Fort Walton.